Oscillators are one of the two big ticket items (the other being filters). There is no limit to the amount of crazy you can find here. I'm trying to put some upper bound on the craziness of my initial system so my picks are pretty traditional (you'll hear this again!).
My first pick is a Doepfer A-110 Standard VCO. It goes for about 140 Euros and is a pretty basic oscillator that outputs sine, triangle, sawtooth and square waves on separate outputs. The output frequency goes from 15Hz to 8kHz which goes as "basic" I guess — not great. The A-110 has two CV inputs controlling the pitch so you can do basic frequency modulation. The pulse width of the square wave if also CV-controllable. Finally, the A-110 has a Sync input which can be used to hard-sync it to another oscillator. The A-110 oscillator may need up to 20 minutes of warming up before the tuning becomes stable — welcome to analogue land!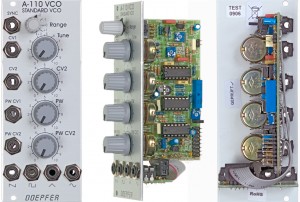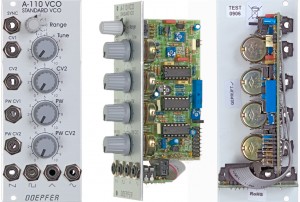 So the A-110 is basic and has what I need. However, a modular synth with a single oscillator is pretty boring, you'll need at least two to get things interesting. Initially I planned on getting two A-110s. There are things to be said in favour of having two oscillators of the same type: they are more likely to track similarly across the octaves and detuning them to make a sound fatter is probably more likely to have the intended effect.
I had basically settled for two A-110s when I started to look at which LFO I wanted. The thing about the LFO is that the frequency has to be voltage controllable. One of my favourite effects is sweeping the LFO rate with an envelope (imagine creaking ice or the sound of a mooring cable being strained) so I definitely want a CV-controllable LFO rate. The basic Doepfer LFOs (A-145, A-146) does not have this but the A-147 VCLFO does. When I was digging around looking for an LFO it struck me (well, it struck someone who wrote about it on a forum via which it then struck me) that if I got an oscillator that could go down into really low (like a tenth of a Hertz) frequencies I could use that as an LFO and when I'm not using it as an LFO I'd have a free oscillator!
Ok, so "free" turned out not to be what this extra oscillator was going to be. Since the A-110 doesn't go below 15Hz it is not a viable LFO-replacement candidate. This is when I found the TipTop Audio Z3000 Smart VCO Mark II. On paper the Z3000 is a lot more powerful. It does everything the A-110 does — square, sine, saw and triangle waves on separate outs, hard sync, CV-controllable PWM — and it has some extra goodies to tempt you away from your liquidity. It has a frequency counter display which allows you to set the oscillator frequency exactly and it can be used to measure the frequency of external signals as well. The Z3000 frequency range is 0.7Hz to 30kHz. It has a waveshaping input, which does something, and a Hard Sync Modulation input, which does something else. It's significantly more expensive than the A-110 at about 220 Euro but if I replace one A-110 and can save on buying a dedicated LFO then it's a wash. Right? Right? What happened next was typical.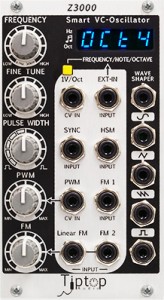 What happened was that I read the manual to the Z3000. Never read the manual. At first a particular module is something you want. If you then read the manual the module becomes something you need. It's a "Yesterday I didn't know that it existed and today I cannot live without it" kind of thing. I like the possibility of setting exact, matched frequencies when using a pair of oscillators as parallel sound sources. So the Z3000 looks like it would be particularly well matched by another Z3000. So maybe two Z3000 oscillators and no A-110s…
It would be nice to have one of each because I'm curious about how pronounced the difference is between different oscillators — the naive assumption would be that for instance a sawtooth wave would sound much the same on all oscillators. On the other hand I do have a budget and the beauty of the modular system is that I can get another oscillator later if I want to.
Finally, I need a noise source. Maybe not strictly speaking an oscillator but as a sound-generator I'll deal with it under this heading as well. Noise is a lot more versatile than you would think but I don't need anything fancy so I'm going with the Doepfer A-118 Noise/Random module. It has outputs for white noise, coloured noise (high or lowpass filtered noise) and random voltage. The random voltage output is a low-pass filtered version of the coloured noise so that you get a lower rate of change which is useful for CV (rather than audio).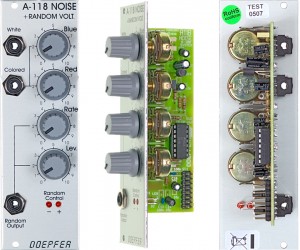 To summarise the sound-generating section:
2 TipTop Audio Z3000 MKII Oscillators
1 Doepfer A-118 Noise/Random