The Doepfer MiniSystem looked cool but I want to rack-mount my system so the cheap wooden box (the A-100LC6) it comes in would have to be replaced. I've basically settled on a A-100G6 which is a 6U (so it has two rows for modules) metal enclosure with rack-ears. It comes with a 1200mA power supply (which seems to be plenty) and a common bus for the two rows. It looks sturdy with decent room for expansion, should the fancy take me.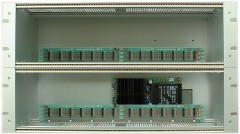 So the way the Eurorack system works is that you have a "bus" which supplies power (+12V and -12V, +5V and ground), CV and Gate signals. Not all modules use all the signals. Many modules don't need the +5V pin and the standard Doepfer power supply doesn't even supply power to that pin without an extra adapter. None of the modules I'm considering needs 5V so I'll do without the adapter. One (and only one!) module on the bus can use the internal CV and Gate signals as outputs. In my case it will be a MIDI-CV interface module. Other modules may use the internal CV and Gate signals as inputs and in this case several can do that at the same time. All other connections have to be made using patch cables in the front of the system.
Each module is connected to the bus using a ribbon cable and apparently these cables are often incorrectly built. If the cable is incorrect or connected the wrong way you may end up letting the blue smoke out of the module you're connecting (that's bad). I'll be sure to inspect each cable carefully before using it.